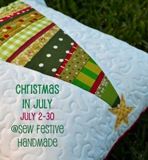 Eep, I've signed up to do a
christmas in july party
! Why "eep", well, it's my first time doing something like this, and, well.... I don't really cope well with Christmas. My family's only marginally christian and I'd say I'm downright atheist. Christmas for me means guilt trips, scratchy clothes, disappointment, and more guilt trips. So definitely put me in the camp of people who see christmas as something to trudge through with the aid of much sugar, caffeine, and ibuprofen (it's the only time I really wish I drank)! Oh, and dreams of escape - not necessarily to somewhere warm, but at least to somewhere away. Paris would be good!
So, July 9th when my tutorial goes up at
Sew Festive Handmade
, it's going to be something for everyone on your list who finds christmas a bit overwhelming, who needs a crutch. Oh, and it won't be red and green. Homey don't play that.
xox,
c