One down, 11 to go!
One of my goals for 2011 is to finish a quilt each month, and I'm happy to say that as of yesterday my January quilt is done! But let's not start at the end... let's start where we should, at the beginning.
A week or 2 before Christmas I decided I really needed a new quilt for our bed. We've had a king size for more than a year now but have been coping with a queen size quilt I made for our old bed. I decided I was going to tackle Denyse Schmidt's
Hills n' Hollers
, so I ordered the pattern. Then I got impatient. Typical. I wanted to start right away, so I drafted the pattern myself.
Then I ordered fabric.
The quilt came together well, a mix of reproduction prints from my stash, and new, modern prints. I prepped my pieces using my favorite technique of freezer paper and starch, then because I'm too impatient for hand applique so I used the invisible hem stitch on my machine and the applique came together in a flash.
I'd ordered 110" wide muslin for the background, which was a nightmare to work with since I don't have a surface that wide in my house! Add an off grain so I couldn't rip pieces to the right size, and I was pulling my hair out! I'm pretty sure the quilt still isn't square, but it's for sleeping, not for show, so I don't really care.
I had big plans for the quilting. I was going to divide the top up into different bands parallel to the applique and quilt each one with a different free motion design. Once I got this beast to the machine, though, I knew I had to change plans. It was huge, heavy, and the batting was thicker than any I'd worked with before. It was almost impossible to drag through my poor bernina. If I ever find a job I'll start saving for a megaquilter or the like, until then, wavey lines it is!
Anyway, the quilt looks good, the cats love it, and it's warm and colourful. As for the name, since it's not exactly true to Denyse's pattern (I think I divided each band of applique into 4 sections and drafted for that, then accidentally only cut pieces for 3), I decided I couldn't really call it Hills n' Hollers. Two years ago we moved to Kamloops, BC, about 4 hours and one treacherous drive away from Vancouver. The highway that connects (or divides) the 2 is the Coquihalla (pronounced Coca halla), and Kamloops is the arid, mountainous town at the Coque's end (or back side, since I'd really rather be in Vancouver).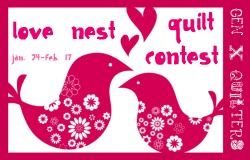 As you can see I've decided to enter this in
Gen X Quilter's
love nest quilt contest
. Wish me luck!
off to start the next beast,
C